Posted on February 15, 2022
by Laura Thompson
I came to Heiresses by accident, during the course of researching another book. As I scanned letters and diaries by the usual suspects—Nancy Mitford, Cecil Beaton, James Lees-Milne—in search of information, I found myself intrigued by certain recurring names: the arts patron Winnaretta Singer and her hedonist niece Daisy Fellowes, the social hostesses Emerald Cunard and Margaret Greville, the much-married Barbara Hutton…heiresses, one and all.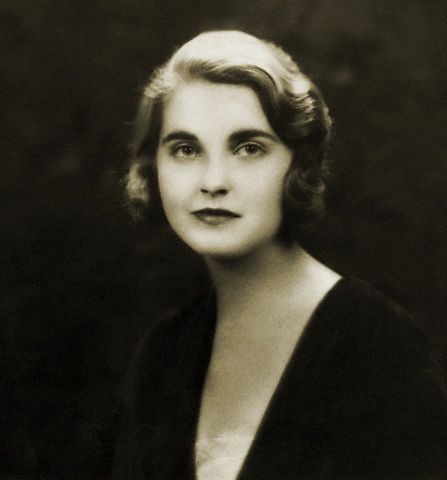 Then I read this, written in 1956 by Nancy Mitford to her sister Diana Mosley:
"The latest coup de Louise de V[ilmorin] is rather funny. She began to smother Barbara Hutton with presents, canchia trees, truffles, valuable-looking bibelots, & so on…Nobody has ever thought of this approach before & the net result is said to be 5 millions [francs] so far…."
Typical Nancy, naughty but astute. And the image that she conjured, of the wily Parisian socialite de Vilmorin targeting the vulnerable, affection-craving Hutton—handing out gifts as a means to get a handout, speculating to accumulate—was the trigger that made me realize that here, in fact, was my subject. I was fascinated by the psychology of the heiresses, but also of those around them. Woolworth heiress Hutton was the figure to whom I always returned, with her apparent existential need to be loved 'for herself'—the heiress's cri de coeur—and the doom that she seemed to carry around in her Hermès handbags. Why was this so, for a woman who had—almost literally—everything? ($50 million may be small change to Jeff Bezos, but in the 1930s it was pretty good going).
And what about the husbands, the hangers-on, the de Vilmorins? Of course, there is nothing like money for bringing out the bad side of people. Clearly, this would be a book that showed human nature at its worst; but that, I thought, might be perversely cheering. It would remind us that relative poverty—the state in which most of us live—is a kind of freedom. In an age such as ours, which portrays the acquisition of absurd multiples of millions as the endgame of existence, it is quite important to remember that money really isn't everything.
Nor, of course, does it necessarily bring happiness. I am not talking about a few extra thousands in the bank, which would make most of us happy because it would be a sharp, brilliant alleviation of anxiety and longing. But the heiress's situation—the blank sumptuous similarity of days filled with excess and luxury; the wealth that has no meaning because it has never not been there —is something else altogether. In that sense, in itself, money does not make people happy. Hence the figure of the 'poor little rich girl'—a frequent trope in fiction and so familiar as to be a cliché, but nevertheless one that I was fascinated to interrogate. 
Although Barbara Hutton and company were my entry points for the book, I also wanted to plunge back in time. I was keen to give the subject matter a certain gravitas, lest it disintegrate into a jewel-drenched gossip-fest (although there is quite a lot of that). Therefore, I sought to underpin it with social history. The subtext of the book is, in fact, the long march towards gender equality. In researching the lives of heiresses, I learned a great deal—not least that their stories merely exaggerate and underline the issues that affect all women. For men, money has always equaled power. For women throughout history, it meant precisely the opposite.
Take, for instance, Mary Davies, born in London in 1665 and the poorest of poor little rich girls, despite being the winner in a real-life game of Monopoly. She inherited a marshy chunk of land in the west end of the city, which at the time was wholly undeveloped and which, today, forms some of the most valuable real estate in the world. The beautiful district of Belgravia, with its vanilla ice-cream mansions and superb squares, is built upon Mary's fields. So too is Grosvenor Square, formerly home to the US Embassy.
The problem, for a woman such as Mary, was that before the Married Woman's Property Acts, passed in the United Kingdom in 1870 and 1882, a wife had no right to control her own property. Once she took a husband, she had no identity in law. Therefore an heiress was shining prey to any confident male magpie who knew that if he could only get her to an altar—sometimes by abduction, even by rape—then the money became his. Although Mary's first husband (to whom she had been auctioned off at the age of twelve) treated her decently, after his death in 1700 she was as exposed as a stag on a hill. What ensued was both frightful and sad. Indeed I wrote much of the early part of the book with my jaw metaphorically dropping on to my keyboard. My method was to put the word 'heiress' into the search engine of The Times database, then dig deeper into the treasure thus uncovered—and it was treasure, albeit of a kind that revealed behavior even worse than I had anticipated. One fortune-hunter, later the subject of William Thackeray's first novel, ran a needle into his wife's tongue to force her to sign away her last vestiges of autonomy.
Without legal protection, the woman with money was, paradoxically, more vulnerable than the one who had nothing. Such was life, in a man's world. What I found so interesting, and at times very frustrating, was that even when an heiress did have rights, she would almost deliberately make herself a victim—Barbara again, of course, although she was by no means the only one.
It should be said, however, that within my book there is happiness, and that not all rich girls are 'poor.' I had two particular heroines. The first was the defiantly unglamorous Honourable Dorothy Paget, the most significant female racehorse owner in Britain before the Queen, who in 1943 owned the winner of the Epsom Derby—exactly what I should want to do were I an heiress. Then there was the Victorian philanthropist Angela Burdett-Coutts, who regarded her inheritance as a sacred duty and who—often working with Charles Dickens, with whom she had a beautiful platonic love affair—used her money to transform the lives of others. Incidentally, Dorothy was a lesbian, like several other contented heiresses, whilst Angela was unmarried until her sixties. In the days before genuine equality before the law and prenups made of iron, the formula for happiness seemed to be to keep love and money entirely separate; not such a bad idea, perhaps, even today.
---
Laura Thompson won the Somerset Maugham award for her first book, The Dogs, and is the author of the New York Times bestseller The Six: The Lives of the Mitford Sisters. Other books include the critically-acclaimed Life in a Cold Climate, a biography of Nancy Mitford, and Agatha Christie: A Mysterious Life, which was nominated for an Edgar Allen Poe award in 2019.

Tags: Barbara Hutton, Dorothy Paget, Heiresses, Laura Thompson, World History